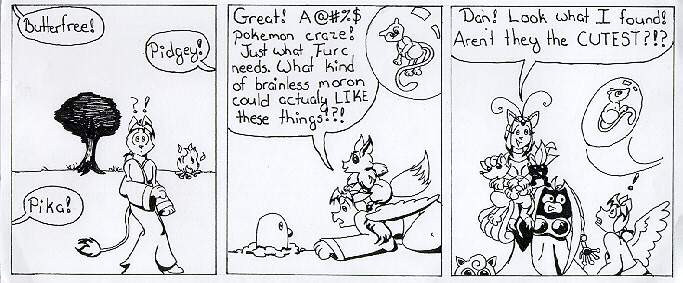 ---
#7: It Starts...
Okay I lied, this one will get a bit of extra detail because there is a bit of story behind this notorious arc which is probably responsible for 70% of any new reader turning around and walking out.


This part of DMFA's history was done right when I was still in the full Furcadia RP scene and right around this time on the game it became a really popular thing for folks to make pokemon themed characters. Like in a week's time there was just a legion of temp characters named x_pikachu_x with folks rping as trainers trying to catch them. So when I did this story-line, it was still in the time when this was just a joke gag with my friends about the antics on Furcadia.


As you will see, my backgrounds have not improved much since the time I drew this.
---